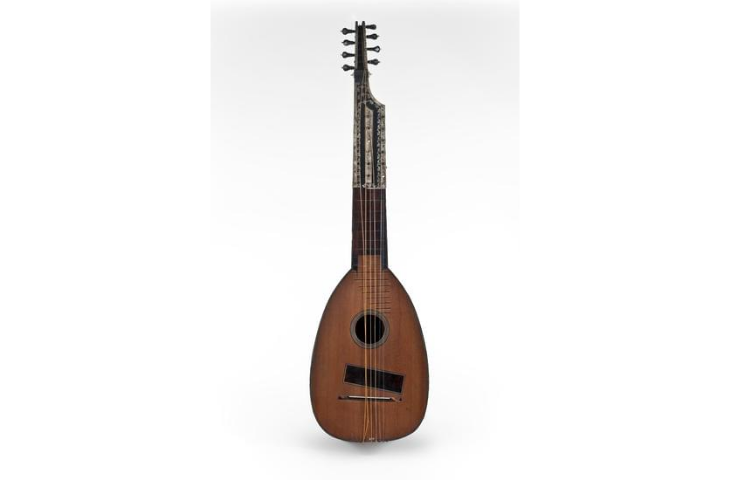 Bass mandolin, Giovanni Storino, Italy, 1725 (or 1705), inv. 0254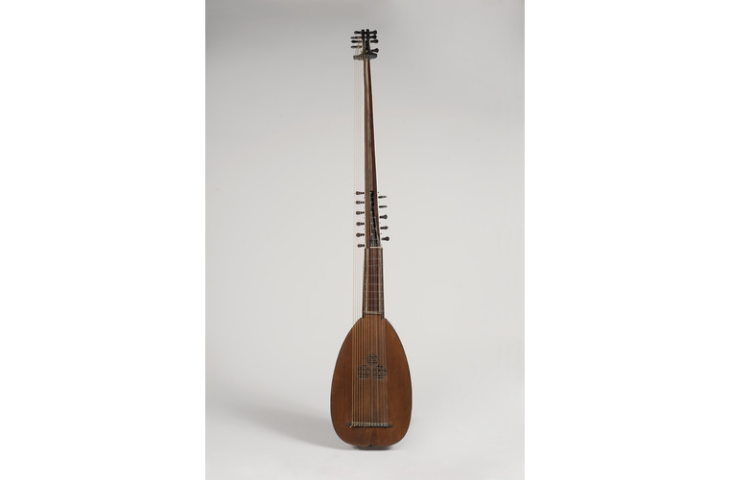 Chitarrone, Matteo Selos, Italy, 1612-1652, inv. 0255
The mandolin shop, Vicenzo Capobianchi (1836-1928), Italy, © Wikigallery.org
The bass mandolin inv. no. 0254 (fig.1) is one of the oldest acquisitions of the Musée des Instruments de Musique. In 1878, Victor-Charles Mahillon, the first curator of what was still called the Instrumental Museum of the Conservatoire, bought it, together with chitarrone 0255 (fig.2), from the Italian painter Vicenzo Capobianchi (1836-1928). Both instruments can be seen in a painting by this artist entitled 'The mandolin shop' (fig.3).
The bass mandolin bears a label with the words 'Joannes Storino fecit / Anno Domini die 10 / Martij 1725 (or 1705)'. The maker Giovanni Storino is not known by any other instrument. On the neck of the mandolin is the indication 'Il pellegrino' (the pilgrim).
The body of the mandolin may originally have been that of a lute. In view of its transformation into a bass mandolin, its table would have been fitted with a protective plate, as most plucked instruments have. The upper part of the neck is heavily decorated and fitted with a particularly original double pegbox, equipped with back pegs for the small choir (6 choirs of 2 strings) and side pegs for the large choir (8 single strings - an extra peg is unused). A scroll, reversed from the one on the neck of the violins, adorns the top of the instrument.
Text: Anne-Emmanuelle Ceulemans
ibliography
Stephen Morey, Mandolins of the 18th century, Cremona, Turris, 1993, p. 129-130