Practical information
The library is accessible without museumticket and only by reservation from Tuesday to Friday (9:30am-12:30pm ; 2pm-4:30pm)
Reader's card is valid for one school year: €7 (students pay €4)
Onsite consultation only, after making appointment through email or by phone (+32 2 545 01 70).
Online catalogue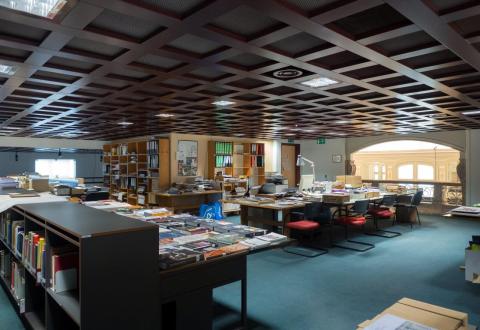 The library dates back to the beginning of the museum in 1877. It is specialized in the fields of organology (study of musical instruments), ethnomusicology (study of traditional music) and the history of Western music.
The library houses also several important collections, including the Robert Pernet collection devoted to jazz in Belgium and the Christian Poché collection devoted to world music. It also houses the iconographic and audiovisual collections of the museum, as well as the archives of the MIM and those of certain instrument makers (organs, bells, chimes...).
We also invite you to visit the BCM (Brabants Centrum voor Muziektradities) and its catalogue, the library of a former MIM collaborator, Hubert Boone, on Belgian & European musical traditions.