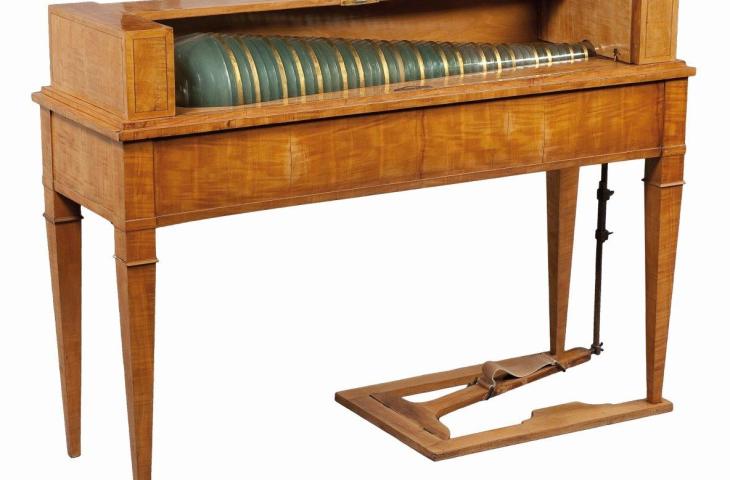 Glass harmonica, K.L. Röllig, Hamburg – Vienna, ca. 1786, inv. 0411
Glass harmonica, K.L. Röllig, Hamburg – Vienna, ca. 1786, inv. 0411
In 1761, the American scholar and later statesman Benjamin Franklin attended a concert in London, at which the music was played on 'musical glasses', glasses filled with water that sound when rubbed with wet fingertips. That concert inspired Franklin to develop an instrument that was easier to play. He fitted a series of glass bowls of various sizes from large to small on a horizontal rod, to which he linked a pedal to make them revolve. As distinguishing marks, he applied colours to the rims of the bowls. K. L. Röllig, the maker of the instrument depicted, replaced the colouring on the edges with gilding.
The glass harmonica rapidly achieved widespread popularity through the virtuoso performances of Marianne Davies, an acquaintance of Franklin. Another player was the blind Marianne Kirchgessner, with her much discussed performances and diva notoriety. This did not go unnoticed by Wolfgang Amadeus Mozart, who dedicated a quintet for glass harmonica, flute, oboe, viola and cello (KV617) to her.
Notably, several glass harmonica virtuosi suffered neurotic disorders, which served to give the instrument a negative image. Ultimately, the instrument – difficult to manufacture – fell out of use and became a rarity of music history.